Library Expansion & Remodel Project
Below are possible renderings* created by Ramaker of our future building. From the top: Front of library; Programming/Community Room; Teen Area; Front Desk looking toward Children's Area
* If you are interested in seeing even more possibilities for our future expansion, we have all the renderings at the library (in much bigger form, too!). Stop in anytime and ask to see them!
Image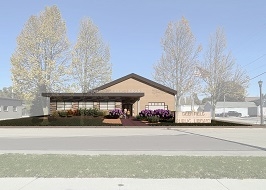 Image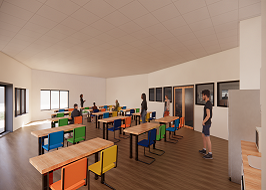 Image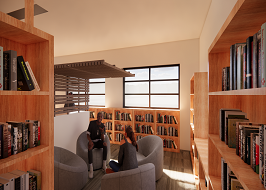 Image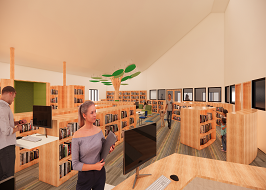 Why?
The library has run out of space to do the things we do best: provide quality programs for all ages, provide work spaces that are quieter and more private, more seating for both leisure reading and studying, more shelving for materials so we can continue to add new materials to our collections without having to remove older materials, and finally more natural light.
What?
We are seeking an expansion and remodel of the library in its current home at 12 W. Nelson Street. The expansion will include a large plot of land north (towards Nelson Lumber) with more parking, a bit of expansion west (towards the Post Office) where more windows will go, and hopefully a bump out to the south of the current seating area on the west side of the building towards W. Nelson Street to put in more seating. All of this will also go alongside a remodel inside of the current building, taking the 4100 square foot library to around 7900 square feet.
How?
The process for this whole project was started with a community survey in 2019 about support for the expansion. Over 60% of those who answered the survey were in favor of an expansion. The Library Board started meeting with architects from Barrientos Design and Consulting throughout 2020. A design concept was chosen by the Board in April of 2021. These design concepts were presented to the Village Board in July of 2021.
The library approached the Village Board and asked for $2.1 million in funding for the expansion project on 2.14.2022. A library Building Committee was formed for the library expansion project and interviewed three architectural firms (Dimension IV, Keller, and Ramaker) for the next steps. The full Library Board voted unanimously to approve the Building Committee's recommendation to hire Ramaker.
What comes next? Ramaker's Environmental Team will start assessing the property and the architects will meet with the Building Committee to edit the original architectural concepts.
The projected cost for the final design will be between $2.8 and $3.1 million, with an ask to the Village for $2.1 million and fundraising for the remainder.