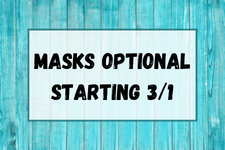 As of March 1, 2022 the Dane County mask mandate has been lifted.
We will not ask you to wear a mask inside the building; however, if you feel more comfortable doing so, feel free to mask up!
We are also asking you to please use good judgment in assessing your own health and the health of anyone accompanying you into the building. We will continue to provide outside pickup as requested, so if you're not feeling well, give us a call and we'll be happy to set it up!